t's the nearest big city to my home in outskirts of Copenhagen. It takes around 4 hours to drive there, so for a short vacation or long week-end it's doable.
Even though Hamburg was blasted to smetherines during the WWII it has been rebuilt, and historical part have not just be rebuild with 1950-60-70 architecture, but have reinstated the former architecture, an example of this can be seen in Speicherstadt (ware house quarter).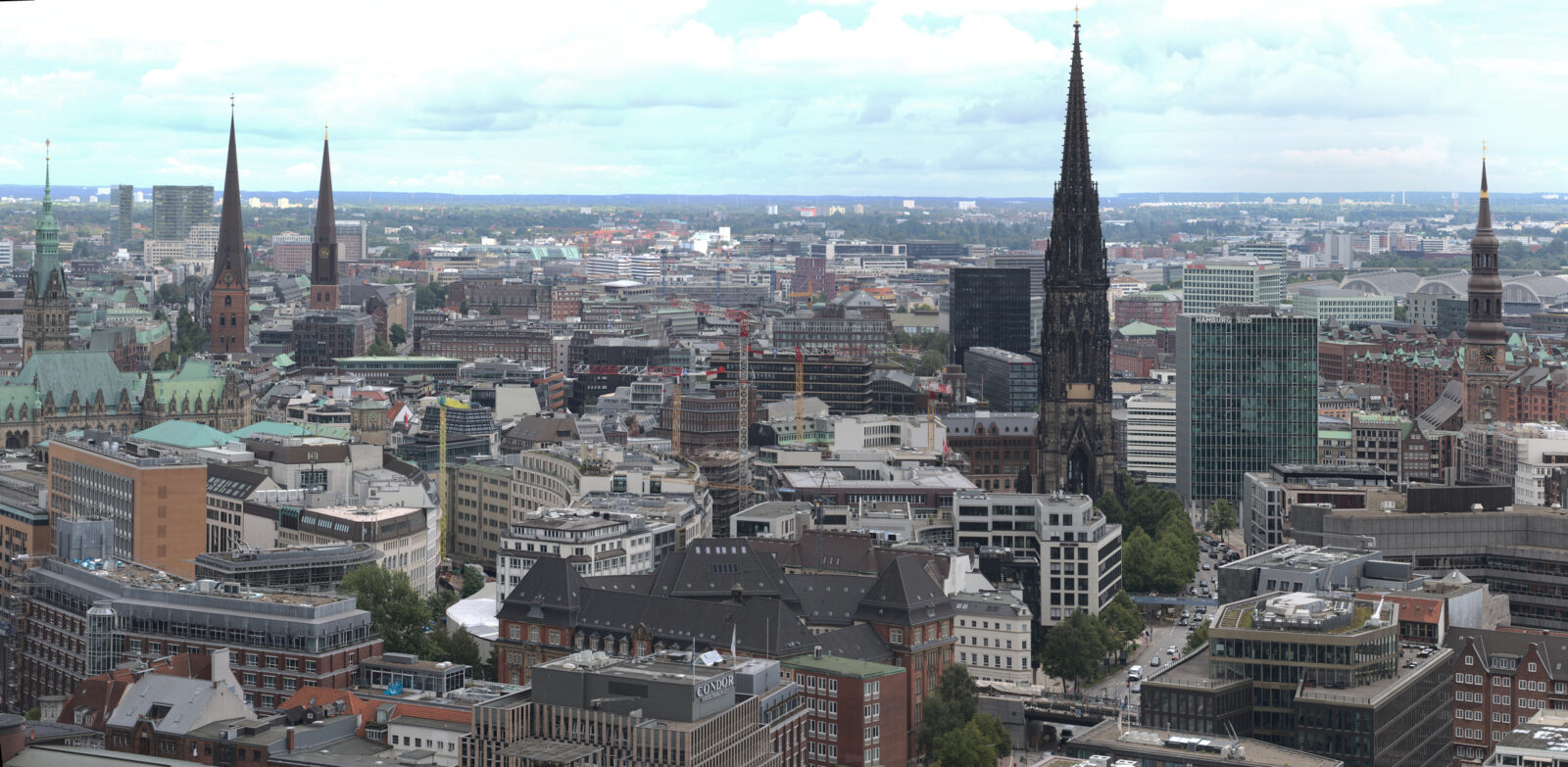 But Hamburg was not only being rebuild, it was also being expanded with new buildings and it is still under construction.
To experience the city I recommend to get the Hamburg Card. I provides access to all U-bahn, S-Bahn, and bus lines in the city area and of course also the harbor ferries. This transport access can also be found in HVV's day tickets, but with card you get discounts on several museums and other venues.
Even though Hamburg is situated about 75 km from the sea, it's port is the 3rd largest in Europe. So the harbor is a center for lot of activities in the city, not just commercial transport of containers, but also culture, entertainment and daily life.

To experience the harbor you should go on a cruise, for this the harbor ferry line 62 is well suited. The ordinary transport ticket provides the tour, and line 62 will take you down the river and up again for about an hour. The harbor ferries are also an alternative to the trains and buses. At Landungsbrücke you can easily change from train to ferry.
Hamburg provides a long series of museums. Art museum is to me a must see, so of course we went to Hamburger Kunsthalle and Museum für Kunst und Gewerbe (Design museum). To visit a art museum when traveling means that even if you watch art from the same period as your local museums you will get quite a different experience. It appears that almost all museum have some local special angle to art and artist you haven't seen before.
The design museum show specially interesting to Danish visitors, as they have managed to get a room allocated to The Spiegels Canteen from 1971 which was designed by the Dane Verner Panton – a quite radical design.

City walks cannot be omitted when traveling to a larger city. First of all we conducted a little our selves every day, strolling through the streets in St. Pauli, Neu stadt, Alt stadt, Karolinerviertel, Portugiesenvirtel and Speicherstadt just to experience the surroundings and the architecture. We supplemented it with 2 guided tours through the city. First was a general St. Pauli tour where we got some of the histories about the city, how it developed historically and histories about persons that have inhabited it. For this we joined Hamburg free walking tour. The other guided tour was a special street art tour, it was performed by Paul who is an active street artist. He knows a lot about the local street artists, their activities and works, we had 2 very interesting hours.
I love going out to eat, trying other interpretations of how you can eat and how meals can be prepared is enriching. The it's a joy to experience that prices are not as at home. Especially when you what to have a better dinner Hamburg and Germany shows to be attractive. I checked the Michelin guide from home and found that it listed 52 restaurants in Hamburg, from Plate Michelin (37) to 1 3-stars. So we enjoyed a meal at Restaurant Nil, 5 courses served very professionally in a pleasant atmosphere. The menu was originally not available as vegetarian or pescetarian, but it became on request, very welcoming. We might come back another time we visit Hamburg.