The first option is a taxi bike, only relevant outside Yangon. It's a tri-bike that mostly assembles an ordinary old-school mens bike without gears fitted with a sidecar. The sidecar can with good will be said to have to passenger seats, however I've never seen both seat used. But I've seen – and tried – to be in one seat and the luggage in the other.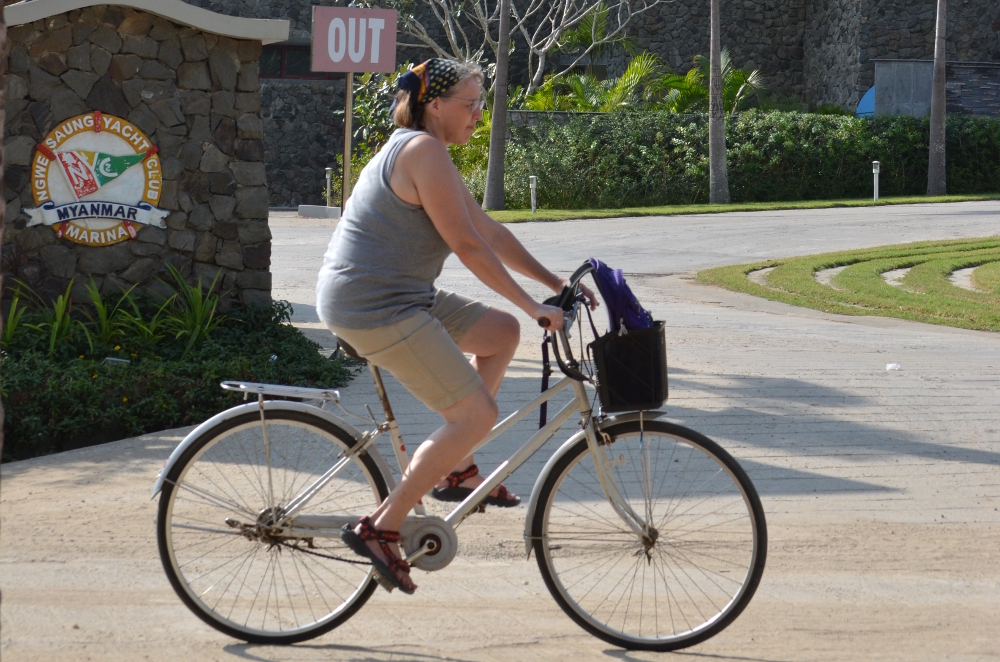 I rode on a taxi bike the first time I was at Ngwe Saung, the trip was the 3 Km from the bus-stop to Tamonnar Oo Resort. I and my suitcase was loaded in the seats and the driver began to push the bike, when we had gained a little speed he jumped into the seat and started to peddle. The bike did'nt actually gain that much speed, maybe 10-12 Km/hour. As long as the road was quite flat we went on steady, but when we reached a small hill – hill is a little exaggeration – the driver worked hard to hold the bike going. At the next very small hill he jumped of and pushed the bike, when I suggest to get of he rejected. At the 3rd small hill he accepted me to get of. Where the road comes to the hotel the road slopes a bit downhill, so there we gained speed. I felt that the driver pushed the breaks to the limit, but he succeed to get the bike halted at the stairs to the lobby.
Initially the charge were 1.000 Kyats, but when he saw my suitcase he raised the price to 1.500.
Another way to get around by bike is of course to rent a bike and ride it yourself. Most places you can find a place where you can rent a bike. Most often the bike is a Chinese ladies bike of rather poor quality and condition, but it will come cheap 1.000-3.000 kyats for a full day. If you are more than 1,6 m tall you'll find the bikes small. Because of the condition you are not going to run fast, but never mind because you will be riding on roads with holes or dirt roads so high speed would not be comfortable.
Rented bikes and most roads in Myanmar do not have light, cars and motorbikes are often poorly illuminated. First time we avoided to ride bikes after sunset, but with sunset before 6 PM it's quit limiting, so on our second time we brought bike-lamps that can be clipped on to the clothes or maybe the bike. Some Burmese told us that they had never seen a bike with lights on, but that it's a good idea.
A few places I've seen shops that provides mountain bikes for rent, but we didn't try them. But they will probably be better than the Chinese I rented.