Who someone says, 'should we have a burger?', what do you think of? Going to the nearest KingDonald and buy burgers in Styrofoam or do you think of a homemade meal that will keep you nourished several hours at the same time as it provides a culinary experience.
I'm absolutely for the second option. So, either I go for a real restaurant version of a burger or I go to the kitchen to work. Over the years I have gathered inspiration and experiences around making a quality burger.
First of all, I don't eat meat, so the beef part needs some innovation. In my perspective the beef part doesn't need to feel, look or taste like meat. But to be a burger you need an element in the middle providing a little greasing feeling combined with a taste of fried food. Before the bottom and top bread, you'll need some vegetables and a little spread to glue it all together.
As I'm a little lazy the preparation amounts in this recipe does not reflect my serving amount. I'll freeze 2/3 of what's prepared, in order to have some easy food later. You can of course choose only to server freshly prepared food, then you either should invite some to help with the eating or reduce preparation amounts. For the recipes below, please observe they require some experience preparing food, because some elements require you to use your own experience and feeling for the food in order to succeed.
The buns
Ingrediens:
1 liter water
10 g yeast
1 tsp honey
1-3 tsp salt
50 ml olive oil
200 gr oat flakes
200 gr durum flour
100 gr full grain spelt
100 gr Sunflower seeds
50 gr black sesame seeds
600 gr wheat flour
Mix yeast and honey and leave it for 10 minutes, add the water oat flakes, durum, spelt, sunflower and sesame seeds. Mix it thoroughly, leave it for 15 minutes so it can soak up water, then start to mix in the flour a little at a time, adding the oil and salt in between, continue to add flour until the dough almost stops sticking to you fingers. Leave it covered in room temperature for 2-4 hours, you can give it a rub down a couple of times during that periode and eventually adding a little more flour. Then put it in the fridge for 8-16 hours.
Take the cold dough onto a table with flour (you can also use oil to stop it from sticking to the table) roll it out using a rolling pin, I think you should roll until it's 1-1.5 cm thick. Use a bowl, cup similar to cut the buns to a diameter that suits you. Bake them for approximately 20 min at 200 degrees Celsius.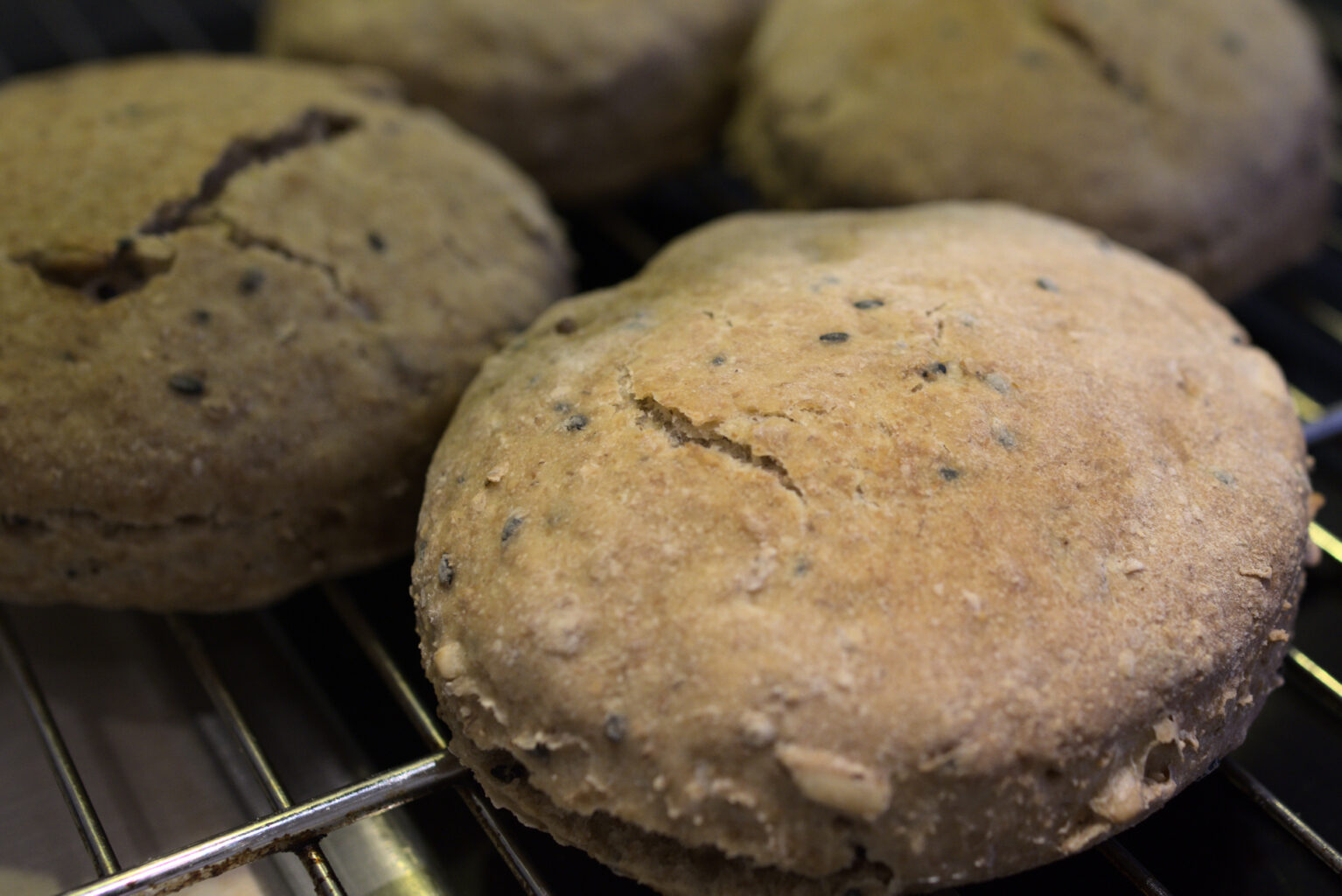 The 'Beef'
200 gr cooked beans (brown, white, kidney, butternut or what you prefer)
4 medium sized potatoes
1 medium sized beet root
1 medium onion
6 garlic cloves
1 fresh chili
100 gr mushrooms
200 gr boiled rice
100 ml neutral cooking oil
120-150 gr oak flakes
Basil
Pepper
Salt
Water
Ketchup is my preferred spreading for the buns, so I prepare some for the occasion. It's quite easy to do and taste better than industry products.
1 can peeled tomatoes
1 medium sized onion
2-4 garlic cloves
2-5 tbls vinegar
salt
Pinch of sugar
Pepper
Oil
Peel and chop the onion and garlic, frie the gently in a pot, should not take any coloring, when tender add the tomatoes. Let the ketchup simmer without lid as it need to be reduced to gain a proper thickness – takes 15-25 minutes. Remove the pot from the heat and run it smooth with a stick blender. If you think it's too thin, then just return to the heat a reduce it further.
When the right thickness has been achieved add salt, vinegar, pepper, sugar to your taste.
I have tried to spice up the ketchup by adding curry or chili while frying the onion.
I serve burgers as a build your own at the table, providing salad, cucumber slices, sliced Emmental or Cheddar, finely sliced leaf cabbage. I think only your imagination stops the list.